I am about two months into diversifying my p2p lending investment by investing in Prosper. My total account value is now just shy of $4000 as I continue to invest all available cash into Prosper.  The process has been extremely painless and I was pleasantly surprised to see Prosper's instant transfer feature.  Unlike Lending Club, once Prosper has verified your bank account, you no longer have to wait the painful 4-5 business days for your money to clear.  Suddenly, you are able to deploy cash instantly on the Prosper platform.  This has been my one complaint regarding Lending Club.  This isn't a huge problem for lump sum investors, but as someone who adds only funds when I get paid, the wait is frustrating.  See this article from Orchard regarding cash drag. It focuses on cash drag while loans are funding or in the review process, but the idea is the same. Instant transfer makes for a much more efficient investing process.  Couple this with Prosper's consistent increase in loans available on the platform, it makes an investment with Prosper very attractive (in my opinion).
I am continuing to use my filters in this video I created about automated investing in Prosper with Nickel Steamroller.  Between the two filters, my average rate is 19.38%.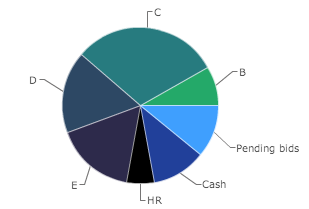 However, I will likely change my strategy once P2P-Picks is setup with one of the automated retail investor tools.  For the time being, Nickel Steamroller continues to invest on my behalf as shown below - for free.  If you haven't used Nickel Steamroller, you get emails when investments are made on your behalf as well as a weekly summary.
You can be sure that I will post once P2P-Picks becomes available with Prosper.
The Prosper web-interface is fine to use, although I never hand picked any notes on the Prosper website.  It doesn't have any of the fancy interactive statistics that Lending Club has, but I did find their Marketplace Performance tab valuable for determining what some of my investment criteria might be.
Regarding portfolio returns, I won't be reporting on any Prosper returns until likely my 2014 Q3 portfolio post and even then - it will be far too early to get an idea of my real returns.  My current plan is to continue to add to my Prosper account as I am able to, and am shooting for a total starting portfolio of about 200 notes.
Anyone else jumping in to invest with Prosper? Let me know in the comments!