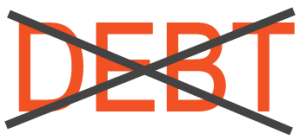 Much of the content of this blog has been dedicated to investing in unsecured peer to peer loans with Lending Club and Prosper. However, there is much more to the industry than the potential for solid returns.  Consolidation of credit is the main reason for people to apply for peer to peer loans.  These are real people who can benefit immensely from receiving a lower rate than their credit cards charge - eventually breaking free from debt altogether. In this post, I'll outline a few of the benefits of getting a loan through Prosper or Lending Club for borrowers.
Lowering Payments with Peer to Peer Loans
At the time of writing, the average rate on credit cards is 15.38%.  Alternatively, Prosper rates start at just 6.73% and Lending Club rates start at 6.78% for the best borrowers.  If you have a high interest credit card, it is worth checking out what rate you would get through either of these marketplaces.  Below you will find links to check your credit rate. Note that these will not affect your credit score.
You can check your rates through the links below: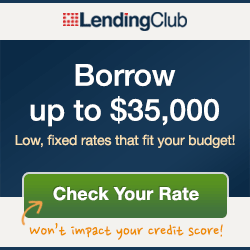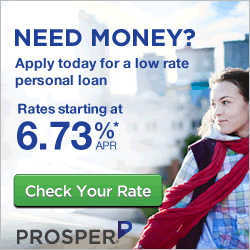 Cutting out the Banks
The whole idea of peer to peer lending is connecting borrowers with lenders - it is as simple as that.  Borrowers benefit from the lower interest rate and investors receive principal and interest payments instead of the banks.  Both Lending Club and Prosper charge a small origination fee which is how they make money.
Applying for a Peer to Peer loan is Simple
As mentioned above, checking your rate and applying for your loan can be all done online.  Once your loan is funded, the funds are deposited into your account.  The payments are then deducted from your account on a monthly basis.  Receiving your money for your loan can sometimes take as little as 5 days.
Peer To Peer Loans Offer Flexibility
With peer to peer loans, you can apply for as little as a $1000 loan up to a $35,000 loan.  You can also select whether you prefer a 3 or 5 year loan.  Loans aren't just for debt consolidation either - you can apply for a loan for a vacation, wedding, move, home improvement and more. There are no prepayment penalties, hidden fees and the whole process is safe and secure.
The peer to peer lending industry is changing the way borrowers get access to credit.  They have a competitive advantage by making the process more efficient than was previously possible with the traditional banking system.  If you're currently paying high interest debt, I recommend considering a peer to peer loan as a way out of debt.
Check your rate with Lending Club