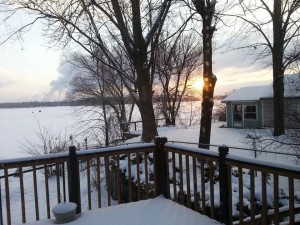 As we approach the end of 2013, I want to say thanks to all of our readers. We are happy that we are able to provide content that others find valuable.  The site has been around since May, 2013 and even though that seems like a short amount of time, I feel like we have been able to accomplish a lot and hope bigger things are in store for peer to peer lending and the site in 2014.
We have connected with a lot of great people in the industry and hope to continue that trend. With some luck, maybe we will even be able to attend LendIT 2014 if we can swing the cost.
Ryan's portfolio and returns
Lending Club
I've been happy with the results of my Lending Club investment so far and have continued to invest in higher grade notes to maximize my returns.  I am finally starting to see some notes go late.
Total Account Value: $5,981.47
Adjusted Net Annualized Return: 14.10%
Interest Received 2013: $280.52
Lending Club as a part of my portfolio
Like any investment, asset allocation is extremely important. As such, I've decided to highlight my investments so you can see where peer to peer lending fits into that.
Stocks/Bonds = 56%
Real Estate = 37%
Lending Club = 7%
Brian's Portfolio and Returns
I've been happy with the results so far, but more than anything I've been having a ton of fun with this.

Lending Club
Total Account Value: $2,327.96
Adjusted Net Annualized Return: 11.79%
Interest Received 2013: $119.08
2014 and forward
We will continue to only share products and tools we believe in. This is a fundamental philosophy at PSL and it will continue in to 2014. Content is our number one priority for this blog and generating income for the site will always be on the backburner. It would be nice to eventually have the site be self-sufficient but we won't compromise ourselves to do it.
We are excited to be a part of peer to peer and social lending. As this market continues to grow by leaps and bounds we know that 2014 will be the biggest year yet! Happy holidays and have a great new year!
As a gift from us to you, we have made it snow on our blog (different from making it rain). If you aren't lucky enough to live in a place where you have to shovel, we have provided you with virtual snow for you to enjoy. For reference, the picture in this post is of my (Ryan's) backyard looking out on the iced over lake in central Wisconsin. Brian, on the other hand, lives in Seattle and hardly ever sees snow.
Please share what you are most excited about for 2014 in the comments section.