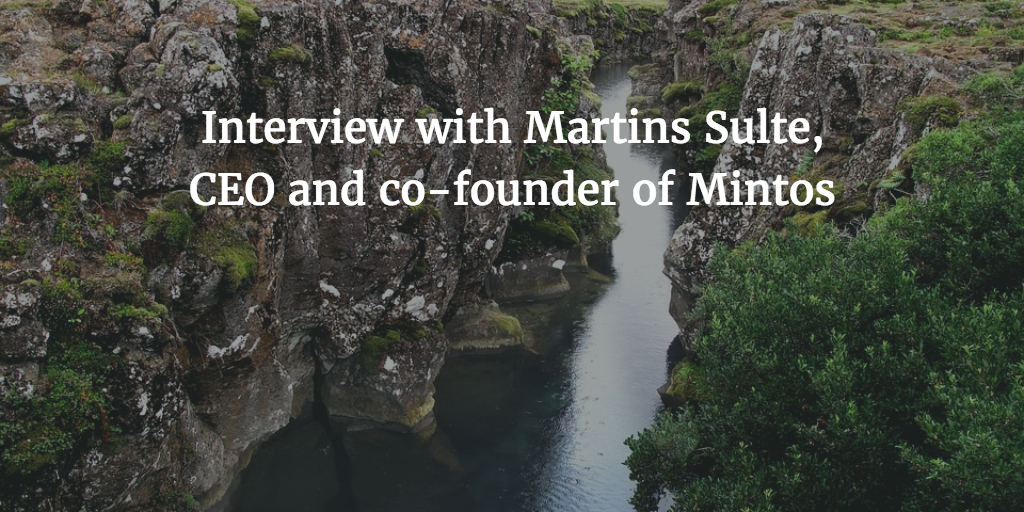 This is an interview with Martins Sulte, CEO and co-founder of Mintos. We have previously reviewed Mintos in depth and now we get to learn more about the platform straight from the CEO.
Can you start by telling us what Mintos is about?
Mintos is a fintech startup. We operate as a p2p loan marketplace that allows investors to invest in various loans from a constantly growing number of loan originators. To put it in a broader context, Mintos marketplace functions similarly to the way Amazon does. While Amazon connects merchants selling goods to consumers, Mintos connects loan originators selling loans to investors.
By creating this service, the Mintos team offers investors an asset class that previously was not widely available — the opportunity to finance loans originated by non-bank lenders, who have traditionally funded loans using their own balance sheet. In our model, non-bank lenders become loan servicers, dispersing proceeds and collecting interest and principal payments from a borrower.
What has been Mintos marketplace's track record so far?
Since its launch one and a half years ago, the company has seen great traction. More than 40 million EUR in funded loans have been traded via the Mintos marketplace. To date, 10 non-bank lenders have joined the platform; they provide loans in the Czech Republic, Estonia, Georgia, Latvia, Lithuania and Poland. More than 8,000 investors from 40+ countries across the world currently use the Mintos marketplace.
What return on investments can investors expect?
So far, we have seen an average net annual return of about 12.5% for investments made through the Mintos marketplace.
We encourage investors to diversify their portfolios. By offering different loan products in different geographical locations, along with a low minimum investment of  EUR 10, Mintos allows investors to easily build well-diversified investment portfolios. Investors can finance business loans, car loans, invoices, mortgage loans, and personal loans on the Mintos marketplace.
All loans on the platform are pre-funded by loan originators; investors can start earning from the moment they invest with no cash drag. Moreover, loan originators on the Mintos platform are required to retain a part of each loan on their balance sheet. This means they have "skin in the game" that aligns their interests with those of investors.
With the Mintos marketplace's current origination volume of EUR 150 million per year, there are always plenty of loans available in which to invest. It is also crucial for us that non-bank lenders on our platform are experienced in underwriting; therefore we do our due diligence vetting potential loan originators before adding them to the marketplace.
How would you describe your typical investor?
About 70% of total investments come from Estonia, Germany, Latvia, and the UK. As more investors learn about Mintos, the balance is increasingly shifting to Western Europe, where saving and investing culture is more developed. Today, the Mintos marketplace connects investors from Western Europe with borrowers in the Eastern part of the continent, facilitating free movement of capital within Europe.
What brought you to the field of p2p lending?
I come from an investment banking background, having worked in the industry for six years before going for an MBA at INSEAD. Financing my MBA was actually my first brush with p2p lending. I borrowed from Prodigy Finance, a platform that provides funding to international postgraduate students attending top-ranked business schools, while also delivering competitive financial returns to institutional and private investors. After graduating from INSEAD, I was eager to prove myself an entrepreneur, and the peer-to-peer industry seemed to be a dynamic place with great potential.
Who are your investors?
Mintos is a venture capital-backed startup – the company closed EUR 2 million seed round from Riga-based venture capital fund Skillion Ventures in February 2016. Mintos's owners are its co-founders, a venture capital fund, and employees who hold company stock options.
How are your operations regulated?
Mintos is regulated by Latvian legislation. Currently, no specific laws have been introduced regulating peer-to-peer lending, but the Latvian government is working to create a legal framework by the end of 2016. However, Mintos has applied for a license issued by the Financial Conduct Authority of the UK, and expects to obtain it by the end of this year.
Where do you see yourself in five years' time?
We aim to be a serious player in the European market – one that provides a free movement of capital enabling integrated, open, competitive and efficient financial markets and services that work for the benefit of investors and borrowers.
We ultimately believe that we create favorable conditions for the growth of the whole non-banking sector, thus making funds more accessible to individuals and small- and medium-size businesses.
If you're interested in joining Mintos, you can do so through our affiliate link here. This allows you to receive 1% of your investment credited to your account. This is paid in 3 installments for the first 90 days. The investment reward will be calculated after 30, 60 and 90 days from the registration date and be based on the average daily balance. Once you are paid after the first 30 days you will only receive an additional credit on increases to your initial investment.