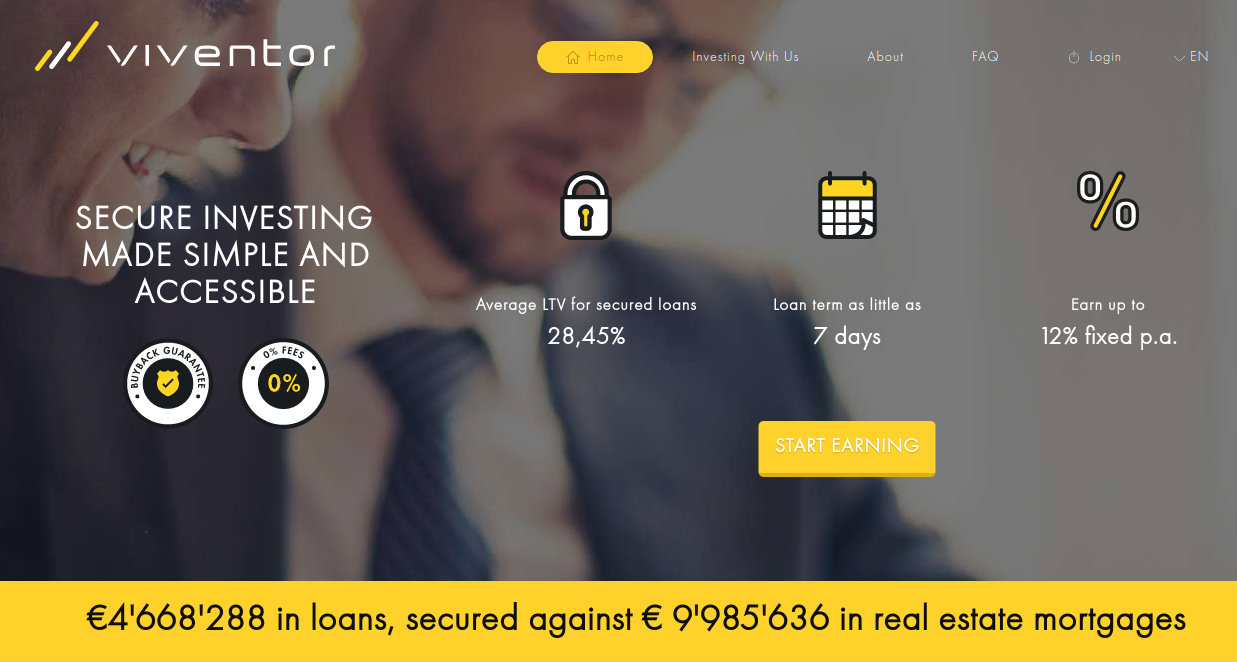 Disclaimer: Viventor provided €50 to start investing and try out the platform. This has not coloured the authors opinion of the platform or influenced this review.
Viventor opened its doors to lenders almost a year ago. Founded by Prestamos Prima CEO Andris Rozenbahs, the Riga-based platform offered loans secured by mortgages, and a buyback guarantee for all investments. Since then, mortgage-backed loans have broadly made way for short-term consumer loans, which now make up a vast majority of listings. These still come with the buyback guarantee and are 100% pre-funded.
Both the buyback guarantee and the pre-funding of loans show Viventor's safe approach to lending. It runs as an ethos throughout the platform and allays any fears investors might have about investing.
With safety so high on the platform's list of priorities, it unsurprising that expected returns for investors are slightly lower than on most competing platforms. Mr. Rozenbahs said when the platform launched: "Keeping in mind that these investments generate a fixed annual return of 6% and above - I'd say it is a solid deal." With cumulative investments breaking through the €6 million mark, and over €45,000 in earned interest, many investors seem to agree.
These numbers now serve as the driving engine of Viventor's success, along side the low entry-barrier to investing. This stipulates a €50 minimum deposit and €10 minimum investment.
Before we delve into the features, let's briefly discuss if you are eligible to invest.
You must be at least 18 years of age
You must have a bank account in the SEPA region
You must have a valid passport, utility bill and tax certificate
Viventor review | features
Peer to peer lending platforms define themselves by the quality of their features. Nothing is more frustrating than a laggy AutoInvest, or an illiquid secondary market. On the other hand, a smooth user experience, slick navigation and easy investments are the hallmarks of this verticals top performers.
Viventor offers three main features: the Primary market, the Secondary market and AutoInvest.
 1 - The Primary market
The platform boasts an excellent Primary market with over 1,000 loans currently listed. These are primarily from Spain and Sweden and originated by third parties like Twinero. Loan terms range from 1 to 72 months, with shorter loan terms significantly outnumbering longer ones. As a result, investors can enjoy a high liquidity as repayments come flowing back at the beginning of every month.
Understandably, loan amounts vary by loan term, with shorter terms often coming in at under €500, while longer terms go all the way up to €150,000. As with all peer to peer lending platforms, the watchword here is diversification I try to avoid larger single investments anyway.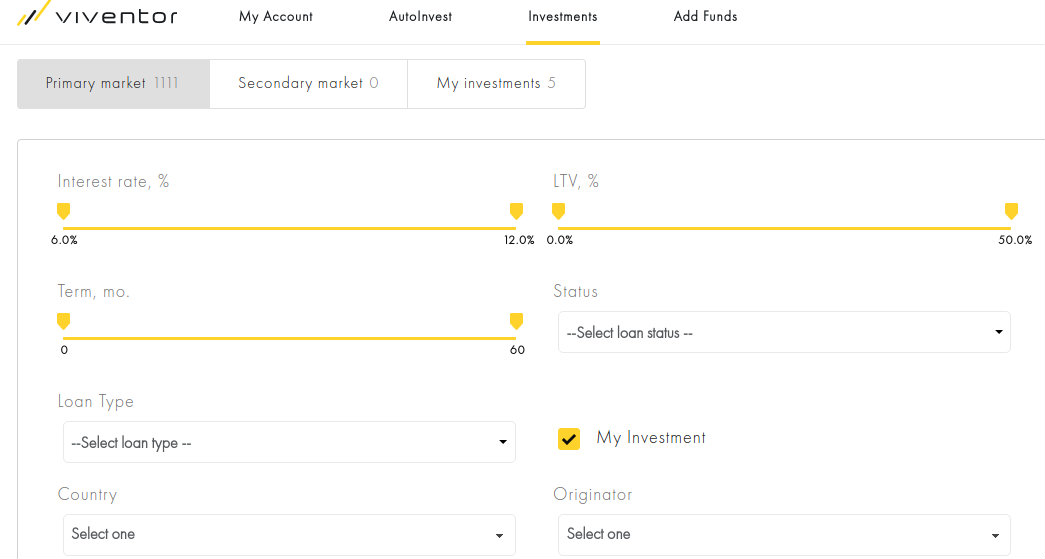 To help martial and segment the vast number of listings, Viventor has provided a pretty cool filter. This allows you to set your desired interest rate, loan term and loan status. The loan status refers to whether a loan is being paid, late or defaulted. As of today (06/10/2016), there is not a single late or defaulted loan listed on the platform.
On the top right of the screenshot, you can see the option to filter for LTV, which refers to the loan-to-value percentage of the listing. A high LTV means that the loan amount represents a high proportion of the borrowers asset value. Setting the filter high, will provide you with a list of larger loans, mostly backed by a mortgage. Below is a good example.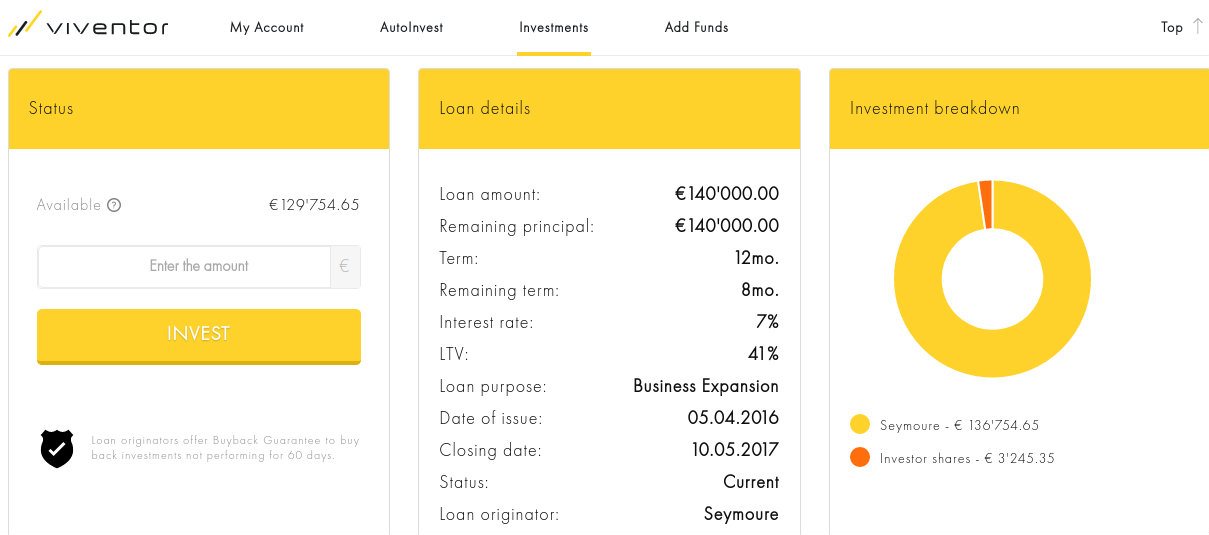 2 - The Secondary market 

Viventor's secondary market is one of the coolest features on the platform. Essentially, it allows investors to exit an investment before it has reached maturity. This particularly handy should you need your money back to pay for bills, or unforeseen expenses.
You can take advantage of this feature by listing your stake in a loan on the secondary market. Other investors then have the opportunity to purchase your stake in order to grow their portfolio. In order to speed up the sale, you can sell them at a discount or even add a premium. With ~791 stakes listed, investors are sure to pick up some great deals.
3 - AutoInvest
As expected from any major peer to peer lending platform, Viventor brings its own AutoInvest feature to the table. If you've never heard of AutoInvest, you should know that it allows you to create an automated investment portfolio based on your chosen criteria. Essentially, it filters the available loans through your predefined filters and automatically invests your desired bid amount. This is fantastic for anyone looking to save time and ensure easy diversification.
What's great about Viventor's AutoInvest feature in particular, is its ease-of-use. You can set your preferred parameters and turn on AutoInvest in just a few minutes and straight away your investments are made. This makes a nice contrast to many similar features which take weeks or even months to place bids. Viventor's advantage here is the ample supply of loans on the primary market.
Additionally, I should mention that using AutoInvest comes at no extra cost to you, and you can still place bids manually should you so choose.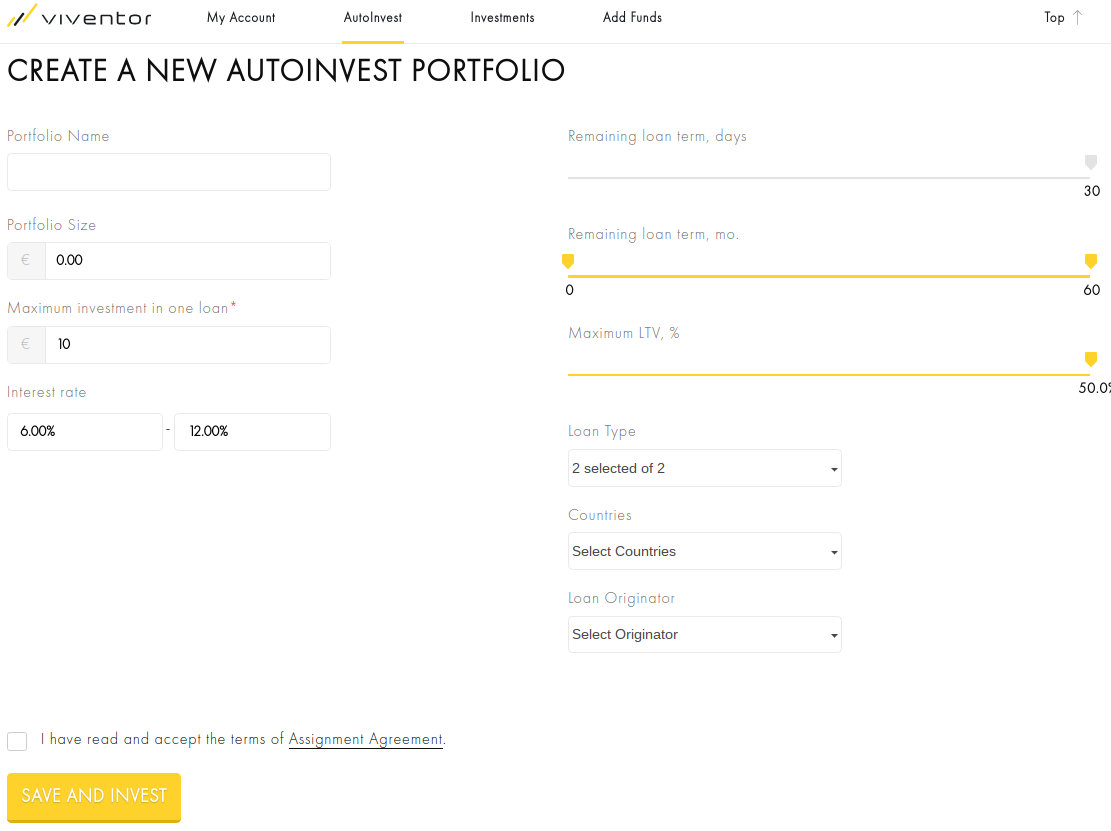 Viventor review | My experiences
No review is complete without personal experience and this Viventor review is no different. As mentioned above, I received €50 to play with on the platform. I quickly set up my account and began to use the AutoInvest feature. I set the parameters to fund high interest, and short term loans, which the tool promptly did. As a result, most of my investments look like this: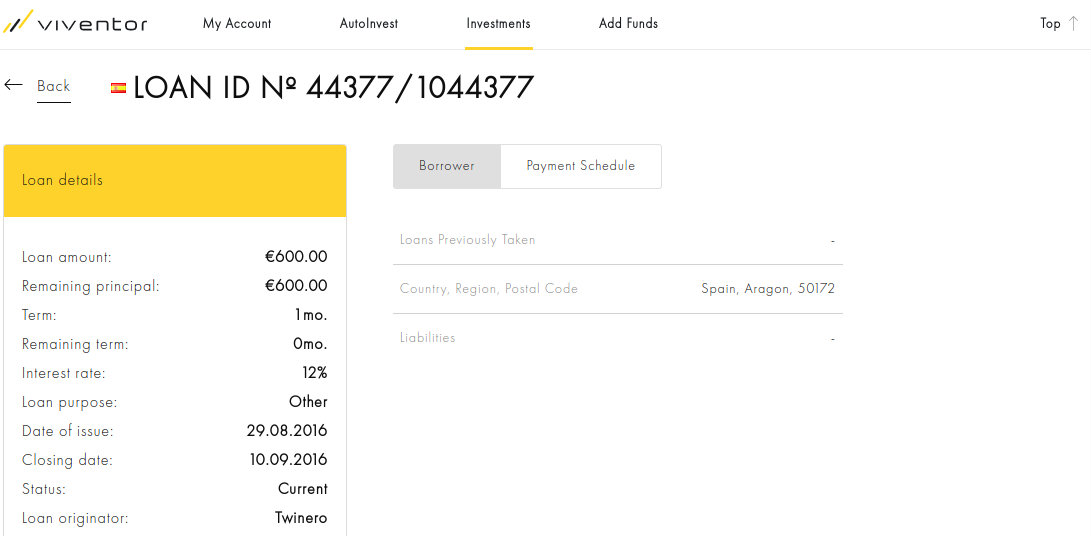 I invested €10 each across 5 loans and waited for the due dates to arrive.  You can find the borrowers repayment schedule by heading to the listing and clicking on "Payment Schedule".
While waiting, I came across the Viventor fellows facebook group, which is an excellent place to find fellow investors and ask questions.
This is what I loved
Viventor is doubtlessly one of the best European peer to peer lending platforms. The slick interface and smooth usability make it incredibly easy to earn interest. The buyback guarantee coupled with the high loan quality make Viventor the definitive safe option for European investors. With a minimum deposit of €50 and minimum investment of €10, investors new to peer to peer lending can dip a cautious toe into the water before committing. Additionally, your dashboard is filled with helpful tips and explanations, making the investment process even easier.
For more sophisticated investors, the AutoInvest feature is easy to set up and boasts 7-13% per annum ROI.
This needs work
Every review needs an honest appraisal of potential weak spots, and there are a few things that struck me while getting to know the platform. Perhaps the most important weakness of the platform is how impersonal it is. No doubt many investors will prefer it like this, but I really enjoy investing in people and not just ID numbers. I think Viventor could make investing even more fun by including some information about the borrower and allow for some interaction.
My second bugbear is the slight lack of information in the dashboard.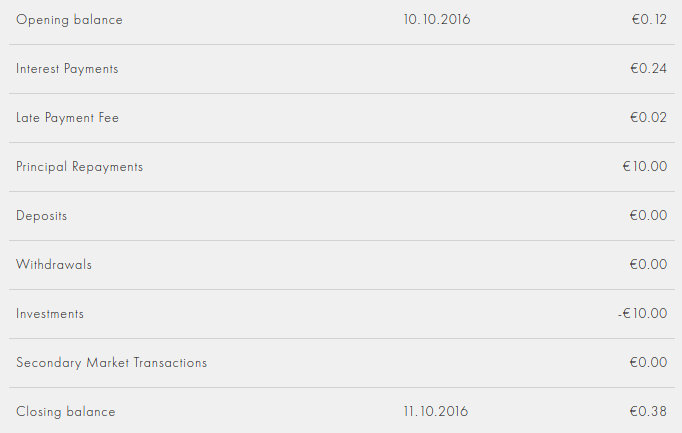 Above you can see a screenshot from my dashboard as of October 6th. Beside this breakdown I can see a small summary of my activity, including the percentage interest earned and other core kpis. On platforms like Bondora and Mintos users are provided with a more granular breakdown of their portfolio performance as well as an indication of performance in relation to other users. I find these particularly helpful as they help sign-post my success as an investor.
Viventor review | Conclusion
Overall, Viventor is a hugely enjoyable platform to invest on. The user experience is excellent and the buyback guarantee offers peace of mind. It takes no time at all to set up an account, and the Auto Invest feature makes it easy to spread your bids, ensuring diversification and (hopefully) maximizing revenue.
After only a month on the platform, there is still plenty to learn but Im looking forward to the journey ahead. Here is my account balance so far, roughly a month after I started investing on Viventor.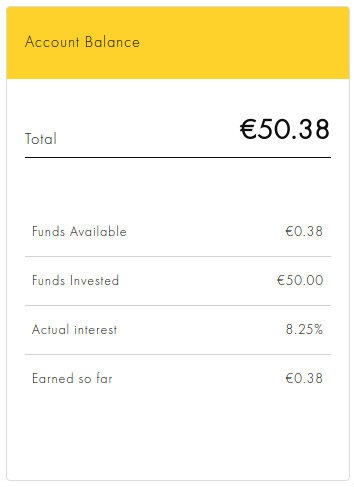 Being such a new platform, there are clearly still aspects worthy of improvement. The relative lack of granular data is perhaps the most glaring in this regard, but it does little to detract from the overall quality and enjoyment of the platform.
Thank you for reading this Viventor review.