Welcome to part 4 of our cryptocurrency adventure. This month's bitcoin lending report should be short and sweet and will cover my new investments, as well as my first returns. If this is your first monthly report, follow the links to find out about my investment strategy on Bitbond and why I am using a bitcoin lending platform to begin with.
Without further ado, let's have a look at my new investments for December:
The first thing I should comment on, is the sum of bitcoins I have invested in two of these loans. In previous months I have tried to avoid lending more than 0.02 BTC to any single loan, in order to invest in as many projects as possible and subsequently spread risk. This has the advantage of mitigating the harmful effects of any defaulted loans. The two listings mentioned here were very well suited to my investment strategy however, which is why I decided to break with my normal investment pattern. These two borrowers fit perfectly into my strategy for the following reasons:
Both are eBay power sellers. One with over 1k and the other with 4k positive feedback
Both wrote a detailed loan description, explaining that the loan was to be used to grow their eBay business
Both have satisfactory income, meaning that their businesses are already doing well
Both are USD denominated loans
There are plenty of other smaller signals which made me lend to these borrowers, but these 4 points are the ones that swayed me.
With this in mind, here is my up-to-date investment portfolio: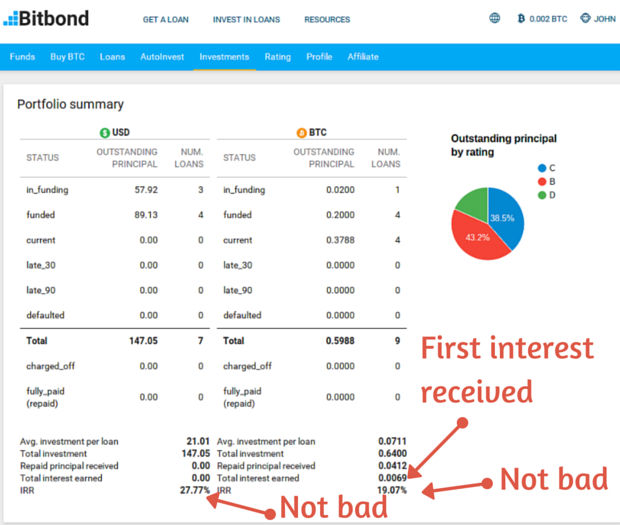 As you can see, my portfolio now includes 16 loans, spread nicely across currencies and medium-to-high risk credit ratings. My expected internal rate of return (IRR) for bitcoin denominated loans is 27.77% while US dollar denominated loans have an expected IRR of just over 19%. I believe that the IRR on Bitbond is calculated independently of probable defaults, so it is fair to assume that a few of these borrowers will fall through, bringing my IRR down in the process. That being said, if I end up making a close-to or above double-digit return I will be very happy.
I should also mention that 4 of these loans are still in funding, meaning that they might fail to receive the 60% necessary for the pay out and fall through. In that case I will receive my bitcoins back and re-invest them on the platform. The 4 bitcoin loans categorised as "current" have been fully funded and 3 of which have begun to repay.  Here you can see my dashboard: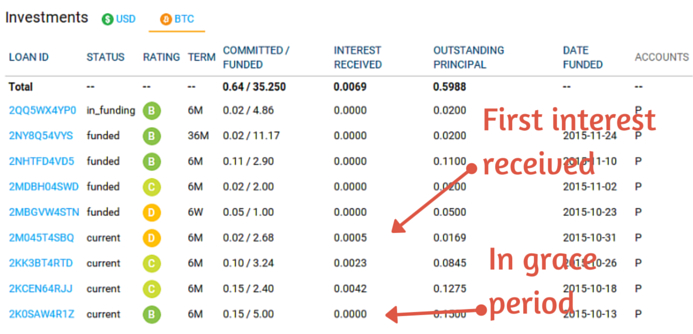 The fourth loan is currently in a grace period and I am hopeful that he will repay in the coming days. Looking at the loan, we can see that he otherwise has a solid repayment history, which is why I am confident he will repay in time.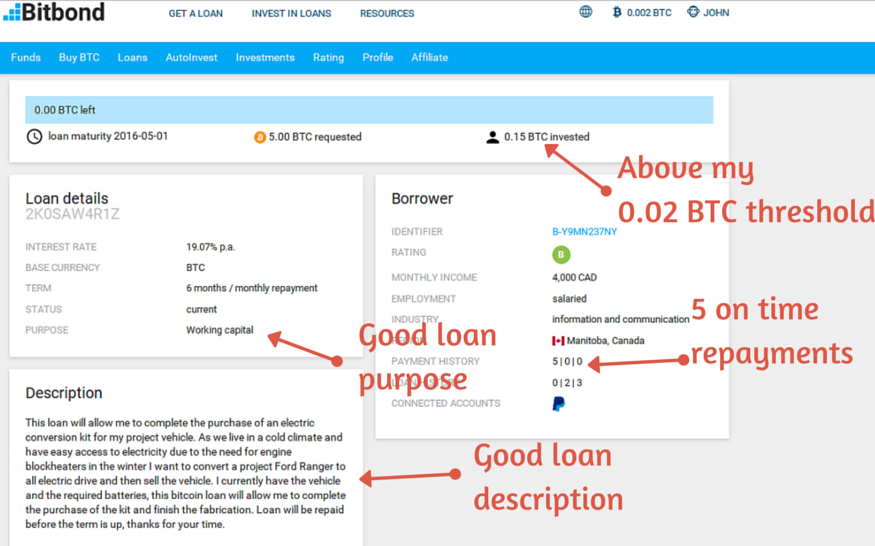 Stupidly, I invested around 0.15 BTC in this bitcoin loan which is way above the threshold I set myself at the beginning. Interestingly, the three borrowers who repaid on time, all have significant eBay accounts connected, whereas the late borrower does not. This is a good portent for the vast majority of my bitcoin investments on Bitbond, as they validate my lending strategy, highlighting the importance of high-quality eBay accounts.
Ending December's report on a high note, the bitcoin interest I received is significantly more than I could have hoped for when I placed the investment. This is due to the meteoric increase in bitcoin's price since I placed the bids. Specifically, the value of my bitcoin investments in october, when I placed the bids for which I am now receiving interest, was 0.45 BTC or around $117.90. On the 1st of December, when I received my repayment, the value of 0.45 BTC had grown to $162.26, bringing up the value of my received interest significantly.
Now, I completely understand that the price of bitcoin is volatile and a price crash might see the value of my bitcoin returns come back down, but that is why I have diversified my Bitbond lending portfolio to include a healthy mixture of currencies.
Bitcoin Lending Report - Conclusion
I have to say that in total I am very happy with my experience on Bitbond so far. Receiving my first interest is reassuring and I am now confident that I can make significant earnings if I stick to my investment strategy. Connected and high quality ebay accounts seem to be a good indication of a borrowers ability to repay, as shown by the interest I have received already. Further, I need to remember to keep my investments in individual loans around the 0.02 BTC mark, and only lend more if the borrowers show themselves to be the perfect fit, as two did this month.
Overall, I am excited to see what the future holds for my bitcoin investments. Let me know what your thoughts on bitcoin lending are, and merry Christmas.