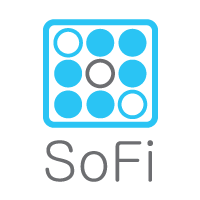 If you haven't heard of SoFi (short for Social Finance), it is a peer to peer lending company tailored to refinancing student loans.  For this blog post, I am focusing on the borrower side of SoFi since I believe in destroying your student debt. SoFi loans are a great way to accomplish this much faster.  I reached out to the folks at SoFi to get some questions answered that potential borrowers might have.  In addition, if you are approved and your loan gets funded, you will get $100 by using my referral code. This site will also receive a small payment at no additional cost to you.  Read below to get your questions answered and learn more about SoFi loans. 
Q: What fixed costs are involved in getting a loan through SoFi if you're approved? Are there origination or application fees?
A: There are no origination or application fees. There is no upfront cost to refinancing with SoFi.
Q: Will my credit be affected during the application process?
A: Your credit will remain unaffected during the application process.
Q: Am I able to refinance to a longer term loan with SoFi?
A: The loan term can vary from 5 years to 15 years.
Q: Can I consolidate and refinance all of my student loans with SoFi?
A: SoFi offers student loan refinancing to qualified graduates for both federal and private loans. Borrowers can combine their Federal and private loans into a single monthly payment, and customize payment terms to fit their lifestyle.
Q: SoFi isn't just a place to refinance student loans, how do you help borrowers seeking employment?
A: SoFi offers career services for their members, providing free career planning and job search assistance with their Career Services program. SoFi has actually helped more than 28 people to new jobs using this career coaching through the Job Search Assistance.
We give borrowers access to a wealth of services and resources that give them a huge advantage in their job search, all free of charge, including:
· Developing a coherent story/personal brand
· Identifying the right target job
· Resume/cover letter review
· Building and cultivating a professional network
· Interview preparation
· Assistance with the offer stage (e.g. negotiation tactics)
Q: Can you explain your entrepreneur program? What can I expect from SoFi if I'm interested in starting my own company when I refinance through SoFi?
A: The SoFi entrepreneur program has helped 23 of SoFi borrowers who started their own companies. That helped manifest itself in a variety of ways. Principally, SoFi can defer that person's loans for up to 6-12 months which is obviously a huge benefit to that individual. They don't have that financial burden around them, and they can concentrate on starting their company.
Additionally, SoFi provides the ability for borrowers to connect with investors. Many alumni investing in the loans are interested in funding these types of startups. SoFi has been able to match borrowers who have started companies with investors to help them start their own companies.
Q: If I lose my job, how can SoFi help get me on the right track?
A: SoFi offers unemployment protection under their expanding Career Services program. If a SoFi student loan borrower loses their job, through no fault of their own, SoFi will suspend their payments for up to three months initially and up to 12 months in aggregate over the life of the loan. To qualify, borrowers must be eligible and apply for unemployment benefits, and must actively work with the SoFi Career Services group during the forbearance period.
Q: How much can borrowers expect to save over the course of a loan with SoFi?
A: The average SoFi borrower can expect to save $9,402 over the course of a loan with SoFi.
Do you have additional questions about refinancing with SoFi? Feel free to contact me and I will be sure to get it added to the list.  You can learn more about refinancing your student loans on the SoFi website.