Todays post is by Chris Grundy of Bitbond. Chris is a Bitcoin obsessive and avid p2p lending fan who has written for a variety of Online publications as well as regularly contributing to the Bitbond blog. You can follow him on Twitter or connect with him on LinkedIn. Any feedback is welcome and encouraged.
It is fair to say that the p2p lending industry is having a stellar year. As you will be aware, Lending Club reported an extremely successful Q2, breaking through $1.9 billion in originations in that quarter alone. During the same time period, Prosper issued a staggering $912.4 million in new loans, representing a 147% increase year-over-year!
The U.K. is equally as impressive with $792 million being lent over p2p platforms in Q2 according to the Peer-to-Peer Finance Association.
So how can you take part and profit from the p2p lending boom?
Well, the first thing you need to do is find the right peer to peer lending site for you, in order to start investing and saying goodbye to the 2.5% interest offered by your bank. Below, I have listed my favourite peer to peer lending sites from around the world for you. Have a look and let me know in the comments if you think I have made any glaring oversights. Enjoy!
Will only focus on peer to peer lending sites and not Marketplace lenders. Thus, not included: Kabage, OnDeck, SoFi, Funding Circle
Global
Using bitcoin as a payment network, Bitbond gives investors access to higher interest rates from around the world at zero fees. Below is a table comparing fee structures across platforms.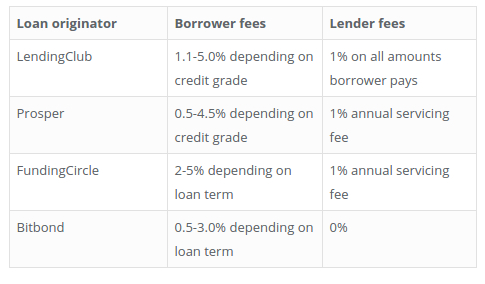 Besides the minimal fees, Bitbond offers is the AutoInvest tool (video) which allows larger investors to set clear investment parameters and then automate the investment process, saving time as well as money.
Potential investors might also be won over by the weekly borrower interviews which are published on the company blog, and allow lenders to read up on the people they might want to invest in.
The average interest rate on Bitbond currently stands at 25% and you can invest as little as $2.50. Check out Stu Lustman's quarterly returns reports to see a comparison between fiat and bitcoin ROIs for lenders.
The U.S.

I think it is fair to say that Lending Club is the favourite among U.S. peer to peer lending sites. Industry heavies such as Simon Cunningham (Lending Memo), Peter Renton (Lend Academy) and Ryan Lichtenwald from this very blog (and Lend Academy), have all extolled on the platforms virtues and have recorded their impressive ROI's, coming in at 13.3%, 11.30% and 10% respectively.
Average investors can expect to enjoy a healthy ROI of 6-8%, which might seem a little disappointing when compared to the professionals, but should nevertheless be considered very attractive.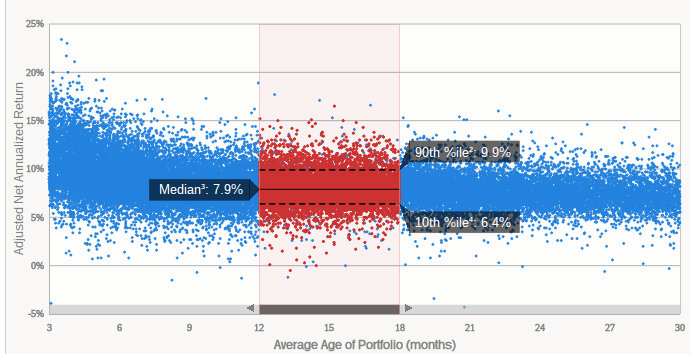 Lending Club also let you invest $25 per investment which makes it possible to further diversify a smallish investment total, and have a very good credit scoring system in place.
Prosper suffered a rocky start. Not controlling pricing in the early pre-crisis years really hurt their returns in the critical 2006-08 period. Prosper also fought the SEC on who should regulate the industry and paid greatly for it. Having put this behind them however, the peer to peer lending platform has enjoyed explosive growth in recent years.
This growth comes mainly from Prosper's newly acquired reputation as being a very solid way of earning extra cash. Since 2006, they have paid more than $140 million to their investors, with average ROI ranging between 5-9%. Additionally, Prosper's evaluation of borrowers and the subsequently high quality of loan requests has helped build their reputation as a safe haven for investors. Specifically, their average credit score for borrowers is an impressive 700.
Upstart might not have the same loan volume of the two giant peer to peer lending sites in the U.S. but it has some interesting characteristics that may well make it intriguing for investors. One of the biggest bugbears p2p investors usually have at Lending Club and Prosper is that when a loan defaults it is the investors, not the platforms that take the hit.
With Upstart's approach, if a loan defaults at any time over the course of the loan term, then Upstart will take the revenue they earned from the origination fees and refund the money to investors.
Upstart's origination fees range between 1% and 6%, which may well prove an attractive remuneration for peer to peer lenders who have seen an investment go south.
A further feather in the p2p lending platforms cap, is the impressively low default rate which can be explained by extremely tough admissions process for borrowers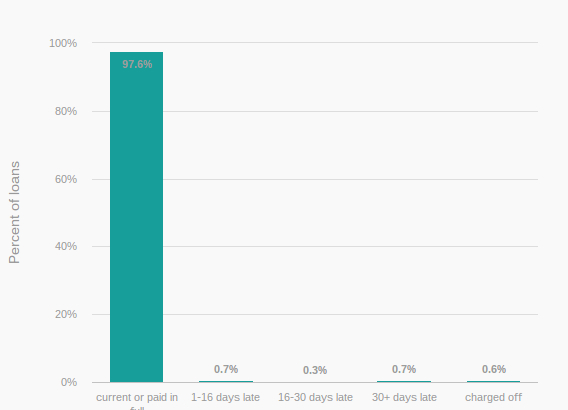 With this in mind, expected ROI for investors is significantly below the previous platforms, coming in at 4-8%.
Peer form is one of the oldest peer to peer lending sites on this list, despite only coming to prominence recently with another successful round of funding. Special features of Peer Form include their emphasis on accredited or institutional investors and their focus on three-year loan terms. Interest rates stand between 7-28% with over 14 different loan grades.
Borrowers must have a minimum FICO score of 600 in order to apply for a loan, and as of today, there are about 70 loans on the platform with a majority of these commanding 20%+ interest rates.
Europe
Bondora is one of the most exciting peer to peer lending sites out there today. This is because of its documented high yield returns for the 9,000+ investors who have signed up.
Perhaps the most prominent among these is Claus Lehmann, (wiseclerk) author of p2p-banking.com, who has documented his returns from the European p2p lending platform. Below is a screenshot of his returns in which he showcases his average of 26% ROI on Bondora to date.
Bondora has issued over €45 million in loans since 2009 and serviced over 100,000 borrowers across 3 countries.
Prêt d'union, founded in 2009, has become the largest peer to peer lending site in France, having granted €228 million in personal loans so far, and paid out over €9 million in interest to investors.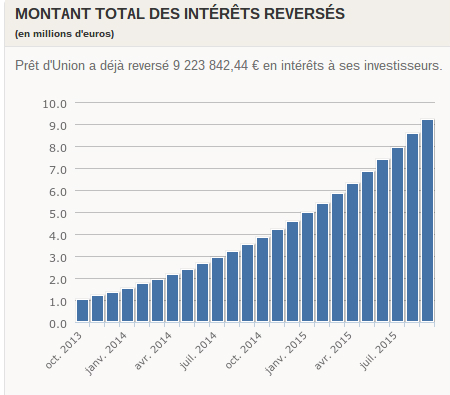 Having grabbed $34 million from Eurazeo, Pierre Kosciusko-Morizet as well as existing investors in July of 2015, Pret d'Union is perfectly placed to expand into the rest of Europe and become the continents dominant force.
Interestingly, the French peer to peer lending platform offers lenders 4 types of investments which are:
Conservative & short duration
Conservative & long duration
Balanced & short duration
Balanced & long duration
Yields for lenders are superior to those offered by banks, but mild in the p2p lending climate at 4-7.5%. For more information check out this interview with CEO Charles Egly.
Aux Money is currently Germany's biggest peer to peer lending site, which has reportedly financed over 32,000 loans totalling a volume of more than €180 million, since its inception in 2007.
Despite the relatively low loan volume, when compared to it's US counterparts, Aux Money is perhaps the most dominant regional p2p lending platform in the world, with a study (untertaken by Händlerbund) suggesting that the German lending giant commanded 2/3 of the domestic market.
Returns for lenders average 6.7% per annum, with investments usually ranging between €3,500-€4,500. Interestingly Aux Money has an acceptance rate for borrowers of 20% meaning that only 400 of the 2000 daily applicants are accepted and are allowed to publish a loan.
Good news for the roughly 13,000 active investors.
Lendico is a Berlin-based peer to peer lending site which was founded in 2013 by the ubiquitous German incubator Rocket Internet. Having expanded to Spain, Poland, Austria, South Africa and the Netherlands, you could argue that Lendico is the first multinational p2p lending platform.
Loans on the platform are SME or personal loans and fall somewhere between €1,000-€150,000 in Germany.  As on many other platforms, the perceived creditworthiness of the borrower determines the interest rate he has to pay, and the subsequent ROI investors can expect.
At present interest rates can be considered mild in the current climate, starting at 2% and climbing to 8.8% for the highest risk borrowers.
Founded in Norway in 2009, Trust Buddy has rapidly grown since its beginnings and can now boast over 300,000 members.
For lenders, Trust Buddy is interesting because the peer to peer lending platform only facilitates 30-day loans of up to 10,000 SEK ( around $1202).
The extraordinary short loan terms, coupled with the ability of borrowers to renew their loans up to 5 times through new loans, results in a potentially huge ROI for investors. The graph below shows a striking comparison between the interest rate enjoyed on TrustBuddy compared to the Pimco Income Fund and the MSCI World Index.

If you are a p2p investor in Northern Europe, be sure to dig a little deeper.
Zencap is another great example of the rude health of the European peer to peer lending industry, having raised €230 million in investments from Victory Park Capital in June of 2015.
Flush with cash, Zencap now aims to provide small and medium sized business located in Germany, Spain and Netherlands with €5,000 to €250,000.
Intriguingly, Zencap is another Rocket Internet company, meaning it is in direct competition in the p2p lending space with its sister Lendico. For investors, loan terms range from 3 months up to 5 years, with the latter being the backbone of the business.
Experiences on the platform seem to be mixed, as German investor Martin R. explains in a guest post for p2p-banking.com. With yields of around 5.7% Zencap will have difficulty competing with alternatives such as Bondora, Aux Money. Below you can see a screenshot of his portfolio diversification across credit ratings.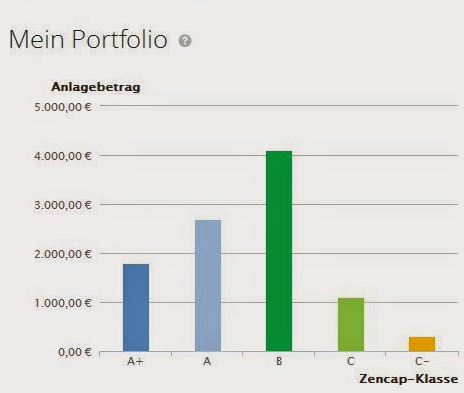 Martin, despite his diversification, like most other investors on Zencap, did no experience any defaults on his investments. With a relatively week ROI however, this might be expected.
Cashare is the leading platform in the expanding Swiss p2p lending space, which grew by a respectable 36% in 2014.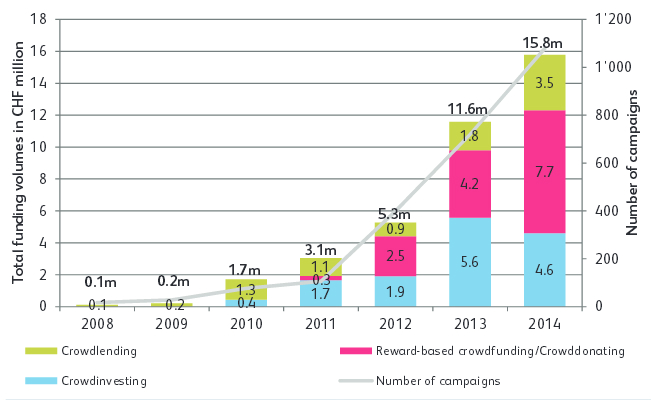 Interest rates on the platform usually lie between 7.7% and 9.9% with 58 loan requests currently available for investment. Additionally, Cashare supplies loans to applicants with varying purposes, whether to finance their education, pay their medical bills or hire a nanny, meaning that lenders can find higher interest rates if they wish to up the risk.
Having raised close to $30 million in several funding rounds, Smava is the up and coming peer to peer lending site in Germany, despite being a presence in the space since 2007.
Since then the German p2p platform has facilitated over €150 million in loans, with an annual ROI for investors of around 6.7%. Smava has a couple of cool features which make it interesting for investors such as the "bidbot" (Bietmaschine) which can be set to invest your money automatically along parameters you choose.
Mintos is perhaps one of the most exciting peer to peer lending platforms in Europe today. With over 2651 registered investors and bosting an average ROI of 12.86%, Mintos is definitely seem to be making all the right moves.
What makes Mintos special, is its use of collateral. As investor Marco Schwartz wrote in his guest post, every loan is attached to collateral, meaning that if a borrower should fail to repay, whatever item he or she placed as collateral will be taken to reimburse the investors.
Interestingly, Mintos also offers to buy certain bad loans back from their investors. Thus, if you invest in one of the specified loans, and the borrower defaults, Mintos will buy back the bad debt at a reduced price, but leaving you a little less out of pocket.
U.K
Zopa will always be the first peer to peer lending platform! A pioneer in the field, the UK-based website has seen losses increase in 2014 however, despite a sharp rise in revenue. Still, Zopa's importance for the UK p2p lending ecosystem can not be overstated. They processed $408 million worth of loans in 2014, which makes their European counterparts pale in comparison.
With current monthly returns for investors of 0.7% to 0.8%, Zapo is still a little away from the 9% ROI  their CEO aspires to.
RateSetter has had a stellar 2014 and is now the largest peer to peer lending platform in the UK, processing over €400 million in 2014 alone. Backed by the star fund manager Neil Woodford, RateSetter has doubled its revenues in the space of a year.
Boasting an annual return of 6.1% to investors, it might be a little difficult at first to see how the platform has enjoyed such explosive growth. If you keep digging however, you quickly realise that the low interest rates are indicative of the safety (low default rates) experienced by lenders throughout the 6 year loan terms.
With the long loan terms in mind, we may well see a upward correction in default rates on RateSetter, as loans mature and default probabilities rise. Until then, RateSetter will stay a force to be reckoned with in the UK peer to peer industry.