On November 17th, investors received the below email from Lending Club stating that the IPO shares of Lending Club (ticker: LC) are to be offered through Fidelity.  Keep in mind it was recently reported that Lending Club may be seeking a buyer. If you are a Lending Club investor as of September 2014, you should have also received the email as well.  This was a surprise since myself and many others speculated that the IPO would be offered through Loyal3.  I outline the full process in this post and will continue to update this post as I hear more and hopefully successfully invest in the Lending Club IPO.  If you're wanting to get in on the IPO, I would recommend starting this process early. At the bottom of this post, you'll also find other links to coverage of the LendingClub IPO.
Below is the email I received with the exception of some of the small print. It simply stated that in order to get access to the IPO, they had to share your information with Fidelity. Clicking the link confirmed that you agreed tt this and simply prompted you to login to your Lending Club account.  The result was your Lending Club settings page and no confirmation was given.  It would have been nice for some sort of 'Success' feedback.  You have until noon (PT) on Sunday, November 23rd to complete this step.
Saturday, November 23
On Saturday, November 23rd people who had allowed LendingClub to share their information began receiving the below mail from Fidelity offering to open a DSP account.  If you have received an email where the link doesn't work, you should receive a corrected email which will work.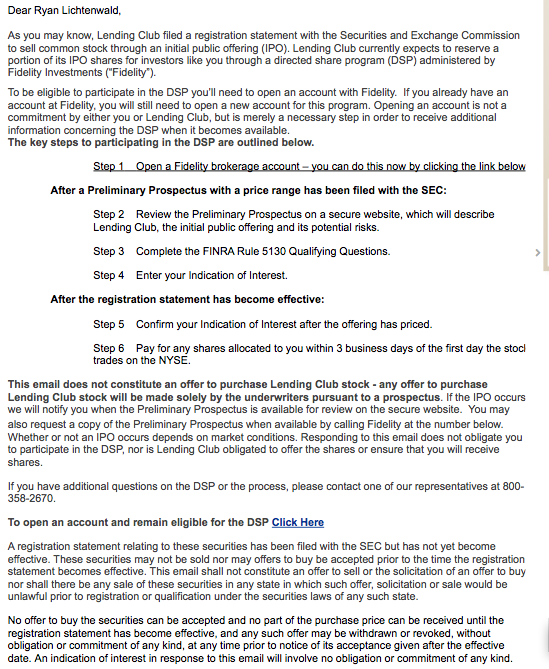 The result of clicking the link in the email outlines the process of opening an account. Keep in mind that even if you already have a Fidelity Brokerage Account, you still must open one specific to the LendingClub Directed Share Program.  I had to provide the usual personal information including my employment information.  It then asked questions about salary, net worth, liquid assets, risk tolerance and then finally asked to rate my investment experience.  I also had to answer a few verification questions which are usually about a family member, previous car or address.  Finally, it asks you to provide bank information to fund your account.
According to Fidelity, my account is under review and I will be contacted once this process is complete about next steps.  It should take 1-2 business days at which point I'll be able to fund my account.
Monday, December 1st
Peter over at LendAcademy wrote about LendingClub's new S1 registration.  Share price will be between $10-$12.  At $12/share this is a valuation of $4.33 billion which is lower than some folks had anticipated.  Retail investors like myself will have whatever is left after LendingClub employees, officers and directors get their chance to buy in.
Tuesday, December 2nd
I just received the below email from Fidelity and you'll definitely want to keep an eye out for this one as it walks you through the steps you'll need to take to participate in the LendingClub IPO.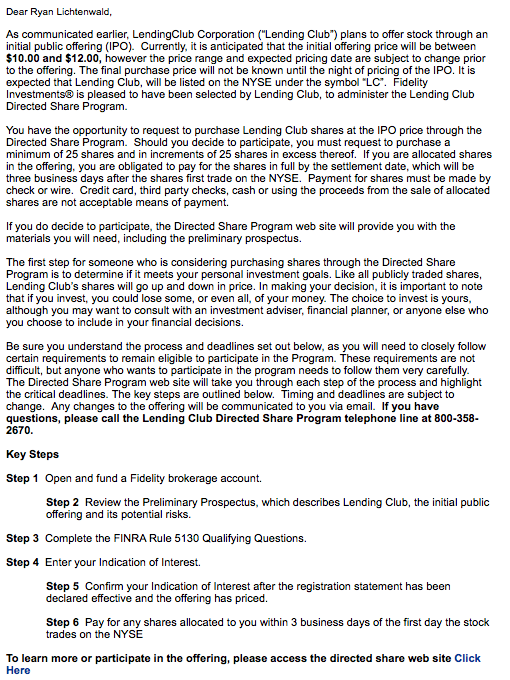 Make sure you click on the link on the last line above, it guides you to another website that lists the steps you'll need to take in order to participate.  It looks like this:
Note above that you can buy notes in increments of 25 for a maximum of 350 shares. This equates to a $4,200 investment if the stock is priced at the high end at $12/share.  After you read through the Prospectus, you'll be required to enter your indication of interest.  I personally put in for the full 350 shares.  You'll have the ability to change this as noted in the deadlines above.
Monday, December 8th
You should have received the below email if you have decided to participate in the LendingClub IPO.  It highlights that LendingClub has filed an amended preliminary prospectus and the anticipated price will be between $12.00 and $14.00 a share as opposed to between $10.00 and $12.00 as previously quoted. Keep in mind you have until December 9th at 4pm ET to indicate your interest (up to 350 shares).  Remember that this doesn't guarantee you will be allocated that amount.   It might be a good idea to fund your Fidelity account in case the shares are priced on the high end.  This would apply if you have have expressed interest in 350 shares and get allocated 350. (350 * $14 = $4900) Keep in mind that the below email does state that you will be obligated to pay for shares in full by the settlement date, which is three business days after they first trade on the NYSE.   Funding your account early will prevent you from having to rush a check or wire transfer.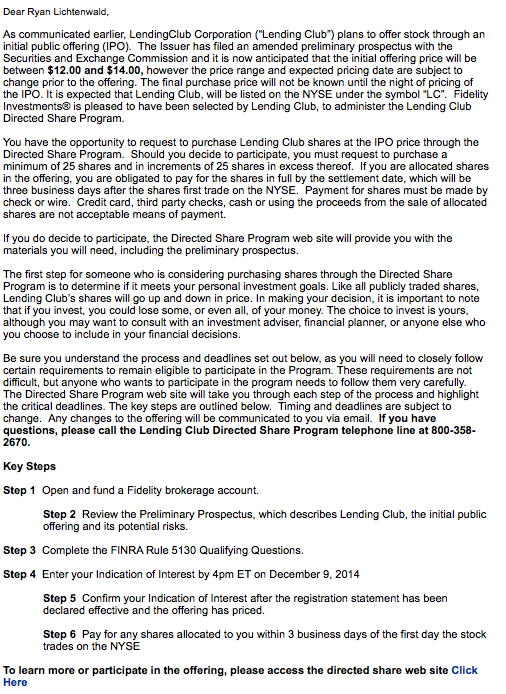 Wednesday, December 10th
Today is the eve of the LendingClub IPO. The price has been set at $15/share - up from the previous estimate of $12-$14. I received the below email to confirm my interest and tomorrow morning I will find out how many shares I get allocated out of the 350 I requested.  If you haven't already confirmed your interest, I recommend you do so as soon as possible.  Tomorrow should no doubt be an interesting day for this industry and I'm excited to be a part of it.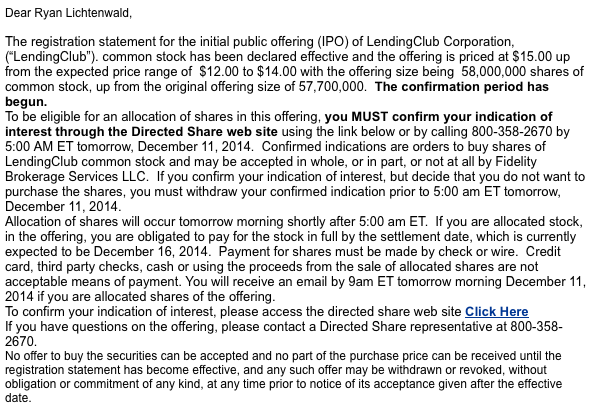 I will continue to update this post and welcome any discussion about the Lending Club IPO in the comments!
Here are a few resources you might find beneficial if you're considering investing in the IPO.  (Please note that none of this information should be considered financial advice)
Misc. Coverage
LendingClub Roadshow video with Renaud Laplanche
http://www.retailroadshow.com/sys/launch.asp?qv=18835697486065328&k=27322314862
Peter and I were both featured on this article from The Wall Street Journal:
Lending Club IPO: Finance Business Gets Tech-Stock Allure
Peter from LendAcademy's IPO Coverage
Lending Club's IPO Packs More than the Usual Legal Drama:
http://www.lendacademy.com/lending-club-ipo-legal-drama/
Lending Club Reserving Shares in their IPO for Retail Investors:
http://www.lendacademy.com/lending-club-ipo-retail-investors/
An Analysis of LendingClub's Valuation:
http://www.lendacademy.com/analysis-lending-club-valuation/
Simon from LendingMemo's Lending Club IPO Coverage
What making History Looks Like: Lending Club Files for IPO
http://www.lendingmemo.com/lending-club-files-500-million-ipo/
The Bear Case
Article from wealthfront outlining whether or not tech IPOs are a good investment:
https://blog.wealthfront.com/tech-ipos-good-investment/